Where is Iceland?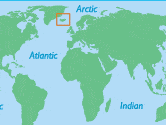 Iceland is a North Atlantic island and the westernmost country in Europe, midway between North America and mainland Europe. It lies about 800 km northwest of Scotland and 970 km west of Norway, and its northern coast is just below the Arctic Circle.  From London, Iceland is the same distance as Athens. It is also the same distance from New York to Iceland as from New York to Los Angeles. Reykjavik is the world's northernmost capital city.
Is it difficult to get to Iceland?
Not at all! Frequent flights operate to Iceland from main cities in Europe and North America and many gateways are served daily. Flight times to Europe are two to four hours.  Most flights connect at Iceland´s Keflavík International Airport (45 km from Reykjavík) to give good stopover opportunities for transatlantic travelers.
How cold does it get?
Thanks to the Gulf Stream, Iceland isn´t as cold as it sounds. Temperatures are moderate year-round. Average July temperatures are around 11°C in Reykjavík – the north and east are often the warmest parts in the summer. Snow is not the orm and only settles intermittently in Reykjavík but tends to stay longer in the north. Fine winter skiing areas are found on higher ground outside many towns, however.  Average January temperatures in Reykjavík, at around zero, are actually higher than those in New York.
How should I dress?
In the summer, light clothing is often all you need – but always be prepared for both cold and wet weather at all times of the year. The weather can be extremely changeable.  Icelanders often say, "If you don´t like the weather, just wait 15 minutes." And always bring a bathing suit, whatever time of the year you visit. A favorite pastime is year-round outdoor swimming in countless geothermal heated pools and lagoons, with a typical temperature of 25-28°C.
What are the people like?
Quite Scandinavian, exceptionally friendly, highly educated, sophisticated, attractive, honest and very modern. Their ancestors were predominately Norwegian, although some came from the British Isles.
Do Icelanders speak English?
Most Icelanders (especially those from their teenage years through their fifties) speak fluent English. In fact, they welcome the opportunity – so never be shy about approaching an Icelander.
What are the accommodation and food like?
Excellent! Iceland´s hotels and guesthouses are almost invariably clean and comfortable.The seafood and lamb are of outstanding natural quality and served in imaginative European style.  There are also plenty of fast food establishments.
What kind of money do they use in Iceland?
The Icelandic króna (ISK). All major currencies can be exchanged at the airport, banks and currency exchanges. Visa and MasterCard are accepted almost universally, and ATMs are generally not hard to find.  Central Bank of Iceland – Exchange rate
When is it daylight in Iceland?
Summer visitors who arrive to a bright midnight sky and ask when it gets dark in Iceland are sometimes told "in the middle of August." The sun barely sets in the summer in Reykjavík and it´s light round-the-clock in the north at the peak of summer. In mid-winter, expect only about four to five hours a day of daylight. Spring and autumn daylight hours are more or less "normal".
What about the electricity?
Icelandic electrical standards are European (50Hz, 240 volts) so many North American electrical devices will require converts. Plugs are generally two-pin, so devices brought in from the UK and North America wil require adapters. Here you can read some
facts about Iceland
.
What is there to see besides nature?
Nature is obviously a big part of the Icelandic experience – but it´s by no means the only part. Reykjavík is one of the liveliest, safest, most sophisticated and modern cities there is, and its nightlife and cultural activities have earned an exciting reputation. Other towns such as Akureyri in the north are worth visiting in their right too.  For those who want to see both city and nature, the wilds begin just outside urban communities and a wide range of sightseeing tours are on offer from most of them.
Will my mobile phone work in Iceland?
Most European cell phones work on Iceland´s GSM network; North American ones use a different standard. But you can rent cell phones in Iceland. Iceland now has the highest rate of cell phones use in the world. Mobiles work in towns and on virtually all main travel routes.
Can I bring my laptop?
Icelandic Internet usage is the highest in Europe. Results show that in 2009 92% of Icelandic households had a computer and 90% had access to the Internet. Many Internet cafes and Hotspots (Wi-Fi) can be found, especially in Reykjavík.