Ytra Lón is situated on the road nr. 869, 14 km northeast of Þórshöfn.  There are bus and flight connections between Akureyri and Þórshöfn Mondays – Fridays. When you arrive with your own transportation in Seyðisfjörður by Smyril Line it's a 3 hour drive to Ytra Lón. On request and for a small fee guests can be picked up from Þórshöfn.
Situated in the middle of Langanes peninsula it is the ideal starting place for exploring the northeastern corner of Iceland. It is remote, that is part of its charm. Once you are there ʻbeing there' is really worth the while. You will find yourself alone with mountains, the ocean, the wind, sheep and birds…countless birds.
Accommodation for up to 46 people in: 9 studio apartments 30m2 each, fully equipped with bathroom and kitchenette. Double- and family rooms with private- or shared facilities. Sleeping bag accommodation with shared use of kitchen and living room also available.
We offer:
Sleeping bag accommodation and made beds
Breakfast with fresh home made products
Sightseeing on the farm
Hot tub / Jacuzzi
Waterbikes
Farmersgolf
Horse rental
Trout fishing
Collecting eggs in the cliffs of Skoruvík 15/5-10/6
Bird watching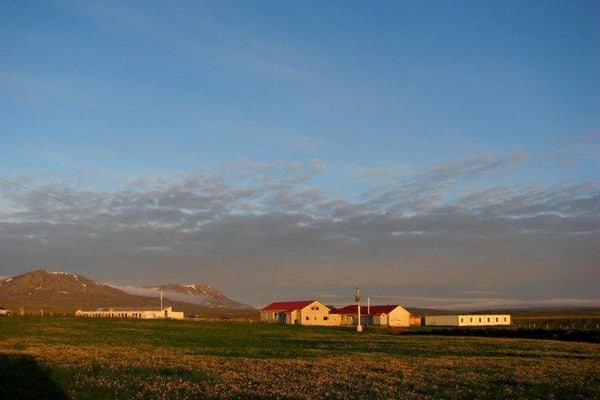 May 1st – September 30th 2011
1 person made up bedroom
ISK 7.000
2 person made up bedroom
ISK 11.100
3 person made up bedroom
ISK 14.800
4 person made up bedroom
ISK 19.400
5 person made up bedroom
ISK 23.000
6 person + made up bedroom
ISK 27.500
Sleeping bag acc.
ISK 3.300-20.200
Breakfast
ISK 1.400
Please contact for a winter price list.  Also available studio apartments, see web site for information.
681, Þórshöfn
ytralon@visitlanganes.com
www.visitlanganes.com
+354 468-1242
+354 846-6448
+354 468-1242
15
50